The purpose of the Global Knowledge Review is to keep you updated on the changes taking place at the leading edge of the 'knowledge world'.

Each issue of the Global Knowledge Review brings you "highly personal" articles from diverse contributors around the world. People who are looking to share with you their thoughts, ideas and insights and in doing so provide a global perspective from different cultures, in business the public sector, academia and all areas of human endeavor.

The Global Knowledge Review is no longer published.

Here are details of past issues:



My apologies but there is a temporary problem displaying list information on some of the pages of this site. You may wish to return later.



Gurteen Knowledge Community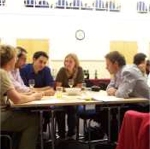 The Gurteen Knowledge Community is a global learning community of over 21,000 people in 160 countries across the world.

The community is for people who are committed to making a difference: people who wish to share and learn from each other and who strive to see the world differently, think differently and act differently.

Membership of the Gurteen Knowledge Community is free.
Knowledge Community