| | |
| --- | --- |
| Title | Real-Time Journalism at Beijing Symposium |
| Weblog | Gurteen Knowledge Log |
| Posted Date | Thursday 25 April 2002 10:37 GDT |
| Posted By | David Gurteen |
| Links | http://www.siliconvalley.com/mld/siliconvalley/business/colu ... |
| Categories | Weblogs |
| People | Dan Gillmor |
| Country | China |
| | |
More on real-time weblogging at seminars and conferences. I really like this idea. I thought about doing it myself at the Bizmedia KM conference in London last week but decided it was too much hassle carrying a laptop and digital camera around with me but in retrospect I wish I had done it - it would have been a useful learning exercise and would have been great to show people.
If you are interested in Knowledge Management, the
Knowledge Café
or the role of conversation in organizational life then you my be interested in this online book I am writing on
Conversational Leadership
Gurteen Knowledge Community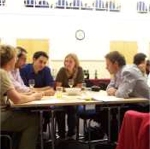 The Gurteen Knowledge Community is a global learning community of over 21,000 people in 160 countries across the world.

The community is for people who are committed to making a difference: people who wish to share and learn from each other and who strive to see the world differently, think differently and act differently.

Membership of the Gurteen Knowledge Community is free.
Knowledge Community