| | |
| --- | --- |
| Title | Life On The Internet: Could Blogging Assist KM? |
| Weblog | Gurteen Knowledge Log |
| Posted Date | Wednesday 27 March 2002 19:23 GMT |
| Posted By | David Gurteen |
| Links | http://www.wohl.com/wa0156.htm |
| Categories | Knowledge Management; Weblogs |
| | |
Amy Wohl has her own blog and her name seems to crop up frequently ... a good little piece looking at blogging and KM.
My
Knowledge Café Masterclass
where you can learn how to design and run a Knowledge Café is coming up fast on
Thursday 1st November 2018
in central London
You can find more information and register here: 
https://www.cilip.org.uk/page/KnowledgeCafe
David Gurteen

I help people to share their knowledge; to learn from each other; to innovate and to work together effectively to make a difference!
How to contact me
My Blog
Gurteen Knowledge Community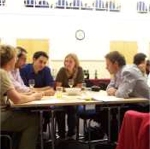 The Gurteen Knowledge Community is a global learning community of over 21,000 people in 160 countries across the world.

The community is for people who are committed to making a difference: people who wish to share and learn from each other and who strive to see the world differently, think differently and act differently.

Membership of the Gurteen Knowledge Community is free.
Knowledge Community