Carrillo's "Knowledge Cities" successfully challenges the prevailing urban planning paradigm with a powerful vision of a future based on the critical resource of human capital. This book is arguably the most important new book in urban planning since the publication of Jay Forrester's "Urban Dynamics" in 1969. Carrillo and colleagues have managed to carefully craft a comprehensive book that persuasively explains why the knowledge-based perspective is critical to urban development around the globe. This exciting new book is likely to soon become a standard for the next generation of urban planners and public administrators." - Steven A. Cavaleri, Senior Executive Vice President, Knowledge Management Consortium International (KMCI) Professor, Central Connecticut State University.
<br><br>
Knowledge Cities are cities that possess an economy driven by high value-added exports created through research, technology, and brainpower. In other words, these are cities in which both the private and the public sectors value knowledge, nurture knowledge, spend money on supporting knowledge dissemination and discovery (ie learning and innovation) and harness knowledge to create products and services that add value and create wealth. Currently there are 65 urban development programs worldwide formally designated as ?knowledge cities.? Knowledge-based cities fall under a new area of academic research entitled Knowledge-Based Development, which brings together research in urban development and urban studies and planning with knowledge management and intellectual capital.
<br><br>
In this book, Francisco Javier Carillo of the Monterrey Institute of Technology (ITESM) brings together a group of distinguished scholars to outline the theory, development, and realities of knowledge cities. Based on knowledge-based development, the book shows how knowledge can be and is placed at the center of city planning and economic development to enable knowledge flows and innovation to provide a sustainable environment for high value-added products and services.




Video: David Gurteen's keynote talk at KM Middle East 2011





David Gurteen's keynote talk at KM Middle East 2011, Abu Dhabi, UAE. Don't do KM.

Media Information:



You will find information on over 200 books on this website - books that relate to the themes of the site: knowledge, learning, creativity, innovation and personal development.

If you would like to receive an e-mail alert whenever I post information about a new book (i.e. one that has been published in the last 12 months) then please click on the button below and complete the form.



Knowledge Cities (Jan 2006) by Francisco Carrillo


Approaches, Experiences, and Perspectives



If you are interested in Knowledge Management, the

Knowledge Café

or the role of conversation in organizational life then you my be interested in this online book I am writing on

Conversational Leadership
Gurteen Knowledge Community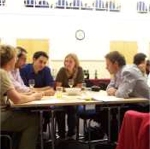 The Gurteen Knowledge Community is a global learning community of over 21,000 people in 160 countries across the world.

The community is for people who are committed to making a difference: people who wish to share and learn from each other and who strive to see the world differently, think differently and act differently.

Membership of the Gurteen Knowledge Community is free.
Knowledge Community