The proceedings of the 8th European Conference on Knowledge Management held at the Consorci Escola Industrial de Barcelona (CEIB), Barcelona, Spain 6-7 September 2007 contain the result of leading edge research in the field of Knowledge Management.

The research is on a wide range of topics including specific mini tracks on:
Measuring and evaluating intellectual capital and knowledge assets
Linking Knowledge Management and Intellectual Capital
Human capital
Auditing Knowledge Management
Linking KM and IC to the Economic Growth of Countries and Regions and People's Welfare
These Proceedings contain the full text of 150 research papers presented at the conference. The authors were from 47 countries and many Universities & Institutes of Higher Learning. They are presented in 2 volumes with a total of 1124 pages.


| | |
| --- | --- |
| | Click the button below for full details of the proceedings and to order. |



error


You will find information on over 200 books on this website - books that relate to the themes of the site: knowledge, learning, creativity, innovation and personal development.

If you would like to receive an e-mail alert whenever I post information about a new book (i.e. one that has been published in the last 12 months) then please click on the button below and complete the form.





No documents found
Would you like to learn how to run a Knowledge Café?
If so, I am running a Knowledge Café Masterclass with CILIP in central London on Thursday 1st November 2018.
You can find full information here: 
https://www.cilip.org.uk/page/KnowledgeCafe
David Gurteen

I help people to share their knowledge; to learn from each other; to innovate and to work together effectively to make a difference!
How to contact me
My Blog
Gurteen Knowledge Community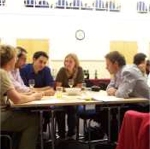 The Gurteen Knowledge Community is a global learning community of over 21,000 people in 160 countries across the world.

The community is for people who are committed to making a difference: people who wish to share and learn from each other and who strive to see the world differently, think differently and act differently.

Membership of the Gurteen Knowledge Community is free.
Knowledge Community