At times, various conference organizers, book publishers and other product or service vendors offer me a free place at a conference or a free copy of a book etc. Sometimes I use these, other times I give them to colleagues or members of my community.

This raffle feature allows me to make these items more broadly available. Also in some but not all raffles, in return for your details, one or two vendors have agreed to provide items on a regular basis. If you wish you can ask me not to make your details available to the vendor though obviously if everyone checks this box the vendors will be unlikely to provide free items in the future.

Click one of the open raffle links below to see details of the raffle and to enter. Click the 'Enter this Raffle' button and a form will pop up that will ask for your details and may ask a simple question that you should be able to answer once you have visited the vendor's site. Fill in the form and click submit!

Once the raffle is closed, one or more winners will be selected at random for the item(s) on offer. The winner(s) names will be posted on the website.


No documents found
If you are interested in Knowledge Management, the
Knowledge Café
or the role of conversation in organizational life then you my be interested in this online book I am writing on
Conversational Leadership
Gurteen Knowledge Community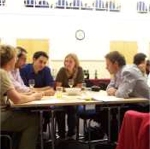 The Gurteen Knowledge Community is a global learning community of over 21,000 people in 160 countries across the world.

The community is for people who are committed to making a difference: people who wish to share and learn from each other and who strive to see the world differently, think differently and act differently.

Membership of the Gurteen Knowledge Community is free.
Knowledge Community