| | |
| --- | --- |
| Categories | Knowledge Management |
| Poll Status | Closed |
| Date Poll Opened on | 2006-06-04 |
| Date Poll Closed on | 2006-07-10 |
| Other | |

One of the hot debates in KM is "What is the meaning of the word 'knowledge'?". There are fundamentally two schools of thought. One that says knowledge is something that can only ever exist in your mind and everything else is just information. Another that says there are two forms of knowledge - 'tacit knowledge' that exists in your head and 'explicit knowledge' that is stored in some other medium e.g. paper or digitally.

To my mind both views are valid. They are just two different ways of interpreting a word that has always been used rather loosely. I can quite happily switch between each depending on the context. But it is important to recognize that there are two views if you are to avoid arguments that at their core hinge on a different interpretation of this thing we call knowledge.

Personally, I tend to use the tacit/explicit model because I find it more useful. I like to distinguish the ingredients of a cake (information) from the recipe (explicit knowledge).

But which model do you prefer?

And oh by the way this poll all prompted by a discussion taking place in the actKM Discussion List

Which view of knowledge do you find the more pragmatic?
| | | |
| --- | --- | --- |
| Knowledge only exists within your head; everything else is just information. | | 27% (43 votes) |
| Knowledge can be explicit (written) or implicit (in your head) | | 73% (118 votes) |

Based on 161 votes.


If you are interested in Knowledge Management, the

Knowledge Café

or the role of conversation in organizational life then you my be interested in this online book I am writing on

Conversational Leadership
Gurteen Knowledge Community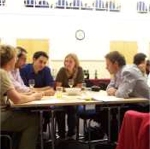 The Gurteen Knowledge Community is a global learning community of over 21,000 people in 160 countries across the world.

The community is for people who are committed to making a difference: people who wish to share and learn from each other and who strive to see the world differently, think differently and act differently.

Membership of the Gurteen Knowledge Community is free.
Knowledge Community