Knowledge Café: How can I put the Knowledge Café to good use?

What is a Knowledge Café?

The Knowledge Café is a simple but flexible, conversational method that almost anyone can run. You do not need to be a professional facilitator.
The Café at its simplest brings a group of people together to have a conversation on a topic of mutual interest to understand better an issue but it can be adapted for a variety of purposes and at its best is a very powerful sense making tool.
The aims of the Café include the surfacing of the group's collective knowledge; learning from each other; sharing ideas and insights; gaining a deeper understanding of a topic and the issues involved and exploring possibilities.
It can also be used to help connect people, improve interpersonal relationships, break down organizational silos, and improve trust and engagement.


The Theme and Question of this Knowledge Café

In this virtual Knowledge Café, I will briefly explain the process and the principles underpinning the Café for those of you not familiar with the concept.

I will go on to share a number of ways in which I have applied the Café or seen it applied for a wide variety of business purposes.

We will then go into Café conversation mode where I will pose the question:

How do you think you could adapt and apply the Café (face-to-face or virtually) in your own organization or for your clients?



David Gurteen Winn Wednesday : April 2017







You will find information on hundreds of events such as conferences, workshops and courses on this website - events that relate to the themes of the site: knowledge, learning, creativity, innovation and personal development.

If you would like to receive an e-mail alert, no more than once a week, that informs you of recently posted events in your region then please click on the button below and complete the form. You also have the option of being reminded once a week of events coming up in your region within the next month.




On the other hand you may prefer to subscribe to an RSS Feed that will keep you informed of events in your region.
If you are interested in Knowledge Management, the
Knowledge Café
or the role of conversation in organizational life then you my be interested in this online book I am writing on
Conversational Leadership
Gurteen Knowledge Community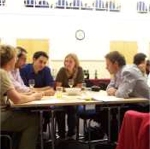 The Gurteen Knowledge Community is a global learning community of over 21,000 people in 160 countries across the world.

The community is for people who are committed to making a difference: people who wish to share and learn from each other and who strive to see the world differently, think differently and act differently.

Membership of the Gurteen Knowledge Community is free.
Knowledge Community