The UX LIVE conference returns bigger and better this October, to bring you two more days of UX-inspired training and development. Positioned at the intersection of design, research and technology; this conference gives a host of thought leaders and specialists in the industry the platform to share, collaborate and inspire.
With talks, workshops and LIVE panel discussions running in parallel, our flexible 'create-your-own-conference' structure enables you to learn and engage with some of the most influential designers in your community in the way that best suits you. Coupled with video access to all talks and panel discussions post-event, you'll have the freedom to experience the content you want to, network like its going out of fashion and still catch all the stuff you missed!
Plan your agenda in advance, using our award-winning event communication app, and delve into the challenges facing your industry today. We already have a world-class line up on our roster, featuring 8 international speakers such as Mike Monteiro (Mule), Jenny Gove (Google), Michaela Wagoner (Netflix), Stephen Gates (InVision), Robert Youmans (Youtube) plus many more - check out the event info or website for the full list!
Check out last year's trailer, to get a flavour of how it all looks: https://www.youtube.com/watch?v=lSdyQnkbxfU
"UX Live was a fantastic conference to speak at. Well organised, well curated, great speakers, great venue and great learning all round."
Conor Ward, Global Digital Experience Director at Centrica
"Plenty of deep-dives into the craft and methods adopted by some of our industry's best practitioners. Definitely one for the calendar."
David Bailey – Creative Director UXandD, BBC
With all the amazing, interactive content you expect from a design conference, plus an after-conference networking party to ensure you make those valuable connections you came for, this is a conference like no other!
Don't miss UX LIVE 2018! ux-live.co

Video: Knowledge Sharing Talk at NLB, Singapore







You will find information on hundreds of events such as conferences, workshops and courses on this website - events that relate to the themes of the site: knowledge, learning, creativity, innovation and personal development.

If you would like to receive an e-mail alert, no more than once a week, that informs you of recently posted events in your region then please click on the button below and complete the form. You also have the option of being reminded once a week of events coming up in your region within the next month.




On the other hand you may prefer to subscribe to an RSS Feed that will keep you informed of events in your region.
If you are interested in Knowledge Management, the
Knowledge Café
or the role of conversation in organizational life then you my be interested in this online book I am writing on
Conversational Leadership
Gurteen Knowledge Community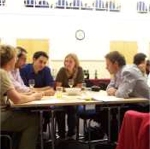 The Gurteen Knowledge Community is a global learning community of over 21,000 people in 160 countries across the world.

The community is for people who are committed to making a difference: people who wish to share and learn from each other and who strive to see the world differently, think differently and act differently.

Membership of the Gurteen Knowledge Community is free.
Knowledge Community