Companies are failing to manage and report what matters to long-term success says this report from CIMA and Cranfield School of Management. The authors, Bernard Marr and Danka Starovic, make the case that sustainable competitive advantage in most organisations is created by effectively utilizing intellectual capital and knowledge. Intangible value drivers are replacing traditional hard assets as principal value creators of a growing number of listed companies. In today's global competition abnormal returns and strong competitive positions are achieved through the management of difficult to replicate intangibles. In fact most tangible assets have become nothing more than transient commodities.

The report highlights the value that can be created through effective management of key value drivers and introduces and analyses tools used by companies seeking to measure and value their intellectual capital.

Currently there is little consistency in the way intangible assets such as people, brand and knowledge are valued, managed and reported. This raises concerns considering that for firms such as Microsoft or Coca Cola only about 5 percent of their market value is explained by the so-called hard assets that are reported in balance sheets. This imbalance is not only true for so-called knowledge intensive firms but also for more traditional firms. Even for firms such as Honda or BP no more than about 30 percent of their market value is reported in financial statements.

Company valuations are failing to paint a true picture to investors because of insufficient understanding and reporting of intangible assets. Innovations in any industry are based on knowledge and unless we start managing and reporting intellectual capital we will see more short-termism in decision making, misallocation of resources, as well as volatility in market valuations. Any organisation that does not put the management of their intangible value drives on the top of their corporate agenda run the serious risk of loosing out against competitors. Successful companies are those that fully appreciate the importance of their intellectual capital, understand how it helps to improve business performance, and most importantly have tools and techniques in place to measure, manage, and report on their value drivers.





Gurteen Knowledge Community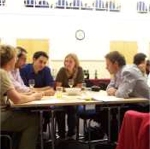 The Gurteen Knowledge Community is a global learning community of over 21,000 people in 160 countries across the world.

The community is for people who are committed to making a difference: people who wish to share and learn from each other and who strive to see the world differently, think differently and act differently.

Membership of the Gurteen Knowledge Community is free.
Knowledge Community