Unipart Advanced Learning Systems (UALS) exists to help its clients to improve business performance in three ways<br><br> (1) Business Change Consultancy<br> (2) Knowledge Management<br>(3) eLearning.<br><br>
See "ELearning is Childs Play" for a fascinating little case study of an e-Learning project run by children.




Video: David Gurteen on who should drive innovation





David Gurteen on who should drive innovation.

The Institute for Research and Innovation in Social Services (IRISS)

, Glasgow.

Media Information:



If you are interested in Knowledge Management, the
Knowledge CafÚ
or the role of conversation in organizational life then you my be interested in this online book I am writing on
Conversational Leadership
David Gurteen

I help people to share their knowledge; to learn from each other; to innovate and to work together effectively to make a difference!
How to contact me
My Blog
Gurteen Knowledge Community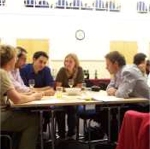 The Gurteen Knowledge Community is a global learning community of over 21,000 people in 160 countries across the world.

The community is for people who are committed to making a difference: people who wish to share and learn from each other and who strive to see the world differently, think differently and act differently.

Membership of the Gurteen Knowledge Community is free.
Knowledge Community