Along with her husband psychologist Richard H. Wexler, PhD, she co-founded Psychology 21C, a venture focusing on the impact of 21st century technology (including virtual environments) on the science of human behavior. Together they write a blog Mind Body Harmony -- The Life, Love, and Legacy of Two Psychologists Facing Critical Illness. Their personal and professional interest is on the impact of relationships on critical illness.

Suzanne is a "Cognitive Edge" certified practitioner, New York State Chair of the Psychologically Healthy Workplace Awards, and an Adjunct Assistant Professor at New York University. Dr. Roff-Wexler received a Doctor of Philosophy degree in Counselling Psychology from New York University and a Master's of Professional Studies from the Milano Graduate School of Management and Urban Policy.

Suzanne is particularly interested in knowledge sharing and collaboration to solve organizational and societal problems. She has co-authored chapters on organizational memory and on social media.

As New York City Regional Director for Gurteen's Knowledge Community, Suzanne looks forward to participating in rich dialogues on all aspects of managing knowledge based organizations.


| | |
| --- | --- |
| Google Video Search | Loading... |

Suzanne Roff-Wexler Principal, Compass Point Consulting


Gurteen Knowledge Community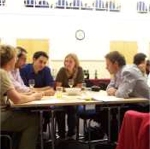 The Gurteen Knowledge Community is a global learning community of over 21,000 people in 160 countries across the world.

The community is for people who are committed to making a difference: people who wish to share and learn from each other and who strive to see the world differently, think differently and act differently.

Membership of the Gurteen Knowledge Community is free.
Knowledge Community