PKZIP is the world's most popular data compression utility that provides many functions for data compression, file archival, file management, and distribution. PKZIP supports the industry standard .ZIP compression format.


Gurteen Knowledge Community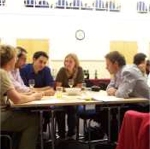 The Gurteen Knowledge Community is a global learning community of over 21,000 people in 160 countries across the world.

The community is for people who are committed to making a difference: people who wish to share and learn from each other and who strive to see the world differently, think differently and act differently.

Membership of the Gurteen Knowledge Community is free.
Knowledge Community