Event companies do not just aim to get the best speakers to their conferences. They want to attract the best delegates, too. But where is the benefit in having the highest calibre of delegates unless there is an opportunity for them to interact with each other?

Roundtable format:
Osney Media has a different outlook. Having run events for over ten years, we know that the two main attractions of a conference are the opportunities to network and the benchmarking discussions to be had among the delegates.

Interaction:
To this end, we have developed a unique format for our conferences. Our roundtable format ensures every opportunity to digest, dissect and discuss the formal presentations in a small group. Seated round a table with seven others, delegates are given the chance to discuss what they have heard. A nominated table spokesperson then summarises key points to the room, so opening discussion up to the speakers and floor.

Productivity:
This original format provides a number of key benefits. Structured discussion time offers delegates the opportunity to exchange reactions, experiences and opinions with the common theme promoting energetic interaction. Both networking and benchmarking are easier and ultimately more successful in this setting. The small group allows discussion of issues relating to personal work practice in a far more productive way than is possible on the floor and many individuals are more forthcoming in a smaller group. Overall, a broader perspective is gained and better contacts are made.

It's good to talk:
This unique roundtabling is a simple and effective tool to maximise conversation between delegates. Networking, benchmarking and interaction are intrinsic reasons to attend conferences, not to be relegated to coffee breaks. Sitting round the table with structured discussion time is a vital part of our agendas that delegates genuinely value.

Osney Media




Video: What is Innovation?



O que David Gurteen pensa sobre inovação from iGovSP - O que você pensa? on Vimeo.

– David Gurteen é consultor na área de gestão do conhecimento. Ele fundou o Gurteen Knowledge Community (Comunidade de Conhecimento) um ambiente de aprendizagem e troca de conhecimento e experiências composto por mais de 14.000 pessoas espalhadas em 153 países diferentes. Nesse vídeo, Gurteen fala o que pensa sobre inovação.





If you are interested in Knowledge Management, the
Knowledge Café
or the role of conversation in organizational life then you my be interested in this online book I am writing on
Conversational Leadership
Gurteen Knowledge Community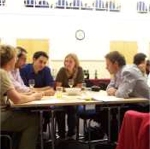 The Gurteen Knowledge Community is a global learning community of over 21,000 people in 160 countries across the world.

The community is for people who are committed to making a difference: people who wish to share and learn from each other and who strive to see the world differently, think differently and act differently.

Membership of the Gurteen Knowledge Community is free.
Knowledge Community