I have been running Knowledge Cafes all over the world for the last ten years. They grew out of my frustration with death-by-powerpoint, chalk-and-talk type presentations. A Knowledge Cafe is different.

In a Knowledge Cafe, the speaker normally only speaks for 10 - 20 minutes without slides and poses a question to the participants (not the audience!) that is then discussed for the remainder of the event.

This conversational approach is a far more interesting and engaging way to learn than "sitting listening". It also is a wonderful format for informal networking.

Since Septermber 2002, I have run open Knowledge Cafes regularly in London. An open KCafe is hosted by an organization who sees the value in the KCafes and they are open to anyone who cares to come along. They are totally free.

You never know what you might learn, who you might meet and what might come of the evening. And if you are more of a listener than a talker then that's OK too ... in a KCafe you are not compelled to do anything you don't want to do. Just turn up and enjoy the evening.

If you have never participateed in one of my Knowledge Cafes then come along In March but even if you have attended a previous event you are still welcome and will get to learn a little more of the philosophy behind them.

Now read on ...

Date: Sunday 11 March 2012, 6:00pm - 9:00pm. This is a free event. Please arrive at 6:00pm or shortly after, which will give you time to settle in and meet other people. Refreshments will be available. The Kcafe itself will start promptly at 6:30pm.

Venue:
The venue will be advised at a later date.

Theme:
The theme of the evening will be advised at a later date.

The Gurteen Knowledge Cafe
David has run hundreds of Knowledge Cafes around the world in the last few years in cities such as Moscow, Washington DC, Phoenix Arizona, Jakarta, Kuala Lumpur, Singapore, Bangkok, Sydney and Wellington.

An open Knowledge Café is free and open to anyone who cares to participate. They are great social learning and networking events. Participants engage with the theme of the evening and some insightful, energetic conversations take place.

Better still, the Knowledge Café process is one that you can take back with you and use in your own organizations to help create a more collaborative and innovative culture.

What is a Gurteen Knowledge Café?

A Knowledge Cafe is a means of bringing a group of people together to have an open, creative conversation on a topic of mutual interest to surface their collective knowledge, to share ideas and insights and to gain a deeper understanding of the subject and the issues involved.

This ultimately, leads to action in the form of better decision making and innovation and thus tangible business outcomes.
During the Knowledge Café, David will
Talk about the role of conversation & dialogue in business
Describe the background, purpose & benefits of the Knowledge Cafe
Explain the Gurteen Knowledge Cafe process
He will then facilitate a Knowledge Cafe on the theme "What is the role of face to face conversation in organisations?"

The Knowledge Cafe Philosophy
Most people are not inclined to share their knowledge freely for numerous reasons. These include: the attitude that knowledge is power, a silo-mentality, a lack of time, lack of confidence, lack of trust and no perceived benefit - the list at times seems endless.

But clearly today, "sharing knowledge is power". To achieve anything in this highly competitive wired world we need to work with people more than ever: to share with them; to learn from each other and to collaborate.

However, you cannot mandate people to share. You cannot even teach them to share. People need to see the problems of not sharing and the benefits of collaboration for themselves. If they truly buy into the fact that "knowledge sharing is power" then they will overcome the barriers for themselves.

A Gurteen Knowledge Cafe brings people together to talk openly about "knowledge sharing"; to identify the barriers and how to overcome them. The participants learn to see the subject in a new light - to better understand other people's perspectives and indeed their own. And to better understand the issues. Better understanding in turn paves the way for personal change and in its turn organizational change.

This is just one application of the KCafe process. Other applications include
turn a traditional chalk and talk, death by PowerPoint presentation or meeting into an engaging learning event
transform an internal conference from a series of boring lectures into an exciting day
transform traditional management training courses where younger managers learn from more experienced ones
as a powerful sales tool to engage customers in conversation and thus better understand their needs for and them to better understand your product or service
surface hidden problems and opportunities that exist in the organisation or in a department or project - especially ones caused by lack of communication
break down organizational silos
encourage knowledge sharing and the creation of a knowledge sharing culture
give people a voice so that they feel heard and are thus less cynical and more engaged in their work
bring managers and technologists together after a merger to build relationships, surface new opportunities and address cultural issues
build and improve relationships
improve business networking and make new connections
solicit input and obtain buy-in for a new project or initiative
as part or replacement for a paper survey or interview (the problem is that until people talk - their knowledge fails to surface)
as a stimulus to innovation: Knowledge Cafes connect people to people; people to ideas and ideas to ideas; they challenge people to reflect on their thinking; surface new ideas and make new connections
To get an idea of what a Knowledge Cafe feels like take a look below at a video of a Gurteen Knowledge Cafe held in Hong Kong back in 2006.






| | | |
| --- | --- | --- |
| Gurteen Knowledge Cafe: SMARTlab at the University of East London | Knowledge Cafés as KM Tools. KM India 2010 | Gurteen Knowledge Cafe at KMPAP 2006 in Hong Kong |
| Introduction to the Knowledge Cafe, Greenwich 2006 | KM Egypt, Cairo, 2010 | About the Gurteen Knowledge Cafe, 2009 |
You will find information on hundreds of events such as conferences, workshops and courses on this website - events that relate to the themes of the site: knowledge, learning, creativity, innovation and personal development.

If you would like to receive an e-mail alert, no more than once a week, that informs you of recently posted events in your region then please click on the button below and complete the form. You also have the option of being reminded once a week of events coming up in your region within the next month.




On the other hand you may prefer to subscribe to an RSS Feed that will keep you informed of events in your region.
Gurteen Knowledge Community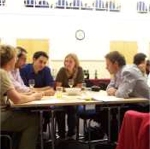 The Gurteen Knowledge Community is a global learning community of over 21,000 people in 160 countries across the world.

The community is for people who are committed to making a difference: people who wish to share and learn from each other and who strive to see the world differently, think differently and act differently.

Membership of the Gurteen Knowledge Community is free.
Knowledge Community