The Knowledge Management Centre of Multimedia University (Malaysia) was established in June 2000 with the aim of creating a knowledge growing environment and an expertise niche in aspects of Knowledge Management and e-Learning.

Led by Prof. Peter Charles Woods, the Knowledge Management Centre houses a team from various backgrounds in the efforts of researching and developing new initiatives for knowledge management and e-Learning, particularly in the education sector.

The Knowledge Management Centre hosts two postgraduate programmes with MMU's Faculty of Creative Multimedia namely Ms in Knowledge Management with Multimedia and Ms in Multimedia (e-Learning Technologies). They also provide corporate short courses as well as professional consultation in areas of knowledge management and e-learning.




Video: David Gurteen's keynote talk at KM Middle East 2011





David Gurteen's keynote talk at KM Middle East 2011, Abu Dhabi, UAE. Don't do KM.

Media Information:



Gurteen Knowledge Community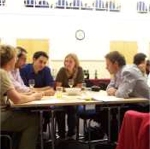 The Gurteen Knowledge Community is a global learning community of over 21,000 people in 160 countries across the world.

The community is for people who are committed to making a difference: people who wish to share and learn from each other and who strive to see the world differently, think differently and act differently.

Membership of the Gurteen Knowledge Community is free.
Knowledge Community