As an author he has published seven books to date; Leading the Organisation to Learn; Seven Cs of Consulting; Know your value? Value what you know; Lead Yourself , Float You Personal Networking and Collaborative Coaching

The current book (Collaborative Coaching) explores a discipline that is key in the new millennium - transforming of personal capital though effective coaching.

He has a number of goals in life, the simple one is to live a life of personal freedom where he is able to think, feel and behave according to his values and not have to succumb to the demands of others. The more challenging one is to help 1000 people achieve the same in their life by escaping from corporate slavery.


| | |
| --- | --- |
| Google Video Search | Loading... |

Impressionsáofátheá2ndáGurteenáKnowledgeáConferenceá26áNovemberá2003 by Shane Godbolt

, Tim Dee


Knowledge is not something you keep in your head, it's a behaviour



Float You (Jul 2001) by MickáCope, Carmel McConnell


How to Capitalize on Your Talent



Know your value? (Dec 2000) by MickáCope
Manage your knowledge and make it pay



Lead Yourself (Sep 2002) by MickáCope
Be Where Others Will Follow



Personal Networking (Dec 2002) by MickáCope
How to Make Your Connections Count



On personal and social capital by MickáCope Consultant & Author



On the strength of a professional network by MickáCope Consultant & Author



Quotations from Mick Cope:



People who optimize their personal capital can change their world. People who optimize their social capital can change the world.

MickáCope, Consultant & Author
---

The strength of a wide-band professional network is that it gives access to deep and tacit knowledge across a range of areas that you could never hope to touch, understand or gain access to.

MickáCope, Consultant & Author
---
If you are interested in Knowledge Management, the
Knowledge CafÚ
or the role of conversation in organizational life then you my be interested in this online book I am writing on
Conversational Leadership
Gurteen Knowledge Community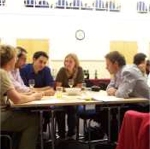 The Gurteen Knowledge Community is a global learning community of over 21,000 people in 160 countries across the world.

The community is for people who are committed to making a difference: people who wish to share and learn from each other and who strive to see the world differently, think differently and act differently.

Membership of the Gurteen Knowledge Community is free.
Knowledge Community