My London meeting places.


Eat: The Queen Elizabeth Hall


FAB Bar - Euston Square Hotel


Fresco Cafe Bar
Fresco Cafe Bar, Cabot Place West, Canary Wharf, London,England


Kensington Close Hotel
Kensington Close Hotel, Kensington, London, England


Millennium Gloucester
Millennium Gloucester Hotel, Kensington, London, England


Novotel London West
Novotel, London West, Hammersmith, London, England


Starbucks - Marylebone High Street


Starbucks - Richmond


ThaiSquare Trafalgar Square


The Archduke
The Archduke, South Bank, London


The British Library


The Royal Society of Arts (RSA)
RSA, nr. Trafalgar Square, London, England


The Strand Palace Hotel


Waterstones, Piccadilly, London
Waterstones bookstore, nr. Piccadilly Circus, London, England


Would you like to learn how to run a Knowledge Café?
If so, I am running a Knowledge Café Masterclass with CILIP in central London on Thursday 1st November 2018.
You can find full information here: 
https://www.cilip.org.uk/page/KnowledgeCafe
David Gurteen

I help people to share their knowledge; to learn from each other; to innovate and to work together effectively to make a difference!
How to contact me
My Blog
Gurteen Knowledge Community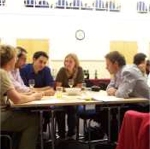 The Gurteen Knowledge Community is a global learning community of over 21,000 people in 160 countries across the world.

The community is for people who are committed to making a difference: people who wish to share and learn from each other and who strive to see the world differently, think differently and act differently.

Membership of the Gurteen Knowledge Community is free.
Knowledge Community