LSE Complexity Group Seminar Series

Inner Complexity An introduction to 'Landscape of the Mind'

Kate Hopkinson

29 June 2011 @ LSE
14.30 – 17.30

This will be an unusual seminar in the sense that it will be launching a film which is intended as an innovative management learning resource. The film covers case studies of real-world projects, including business-critical topics such as leadership, innovation and talent management, as well as a unique method for identifying under-used talents. Interviews with individuals talking about their experiences of using LoM are complemented by the results of an fMRI brain scanning study.

Kate Hopkinson will introduce the developmental tool Landscape of the Mind (LoM) and illustrate its practical use with clips from the film. LoM's fresh model of psychological functioning offers a groundbreaking and practical approach to the challenges facing organisations today. Meanwhile the film provides an interactive forum designed to be a powerful vehicle for learning.

This seminar is particularly relevant to business leaders, executives, management and organisation developers, HR professionals, academics involved in work with organisations and policy makers.

Kate Hopkinson (MA in Management Learning) is Director of Inner Skills, a company she set up in 1995, which offers management and organisation development consultancy based on her innovative methodology, Landscape of the Mind. She works with a wide range of organisations from blue chip companies, to public sector and not-for-profit organisations. Kate has a long standing connection with the Complexity Research Programme at LSE, where she is a Senior Research Associate. She gives seminars and contributes to workshops run by the Complexity Group, as well as large scale applied research projects. Recently, in conjunction with LSE, she has been making a film about her work. As well as running Inner Skills, Kate has been CEO of a not-for-profit organisation, and served for 6 years on the board of SAFERWORLD, an NGO concerned with international security issues. She is a designated expert in cognitive science for the European Commission, and is currently writing a book about Landscape of the Mind.

Please contact Rahoul Masrani at complexitygroup@lse.ac.uk if you wish to attend.

This seminar is free but places are limited.

Details of this event and the others in the series are available on our website, http://www.lse.ac.uk/complexity

You will find information on hundreds of events such as conferences, workshops and courses on this website - events that relate to the themes of the site: knowledge, learning, creativity, innovation and personal development.

If you would like to receive an e-mail alert, no more than once a week, that informs you of recently posted events in your region then please click on the button below and complete the form. You also have the option of being reminded once a week of events coming up in your region within the next month.




On the other hand you may prefer to subscribe to an RSS Feed that will keep you informed of events in your region.
Gurteen Knowledge Community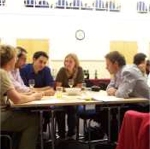 The Gurteen Knowledge Community is a global learning community of over 21,000 people in 160 countries across the world.

The community is for people who are committed to making a difference: people who wish to share and learn from each other and who strive to see the world differently, think differently and act differently.

Membership of the Gurteen Knowledge Community is free.
Knowledge Community