Date: Tuesday 27 March 2012, 5:30pm - 9:00pm. This is a free event.

This Knowledge Cafe is a little different from usual as there will be a tour of PriceWaterhouseCooper's new office tower "7 More London" that stands on the south bank of the Thames near city hall. It is one of the UK's greenest office buildings 

The '7 More London' is designed to utilize waste heat from its air conditioning system. The designers claim that 25% of the building's energy is produced onsite.

The solar thermal panels with onsite energy generation using recycled cooking oil are responsible for that big amount of energy produced. Europe's leading green building rating system, BREEAM makes use of a point system that takes a number of sustainable building issues into consideration to award a building its rating. The issues include reductions in water and energy use, increasing natural lighting and fresh air, the use of recycled materials, and placement.

The building has succeeded in obtaining an energy conservation rating of 70% above building code.

Some more information about 7 More London:
http://www.building4change.com/page.jsp?id=506
http://www.pwc.co.uk/corporate-sustainability/7morelondon.jhtml
http://www.pwc.co.uk/corporate-sustainability/strategy.jhtml

If you wish to join the tour please arrive promptly by 5:30pm.

If you can't make it in time for the tour but would still like to take part in the KCafe then arrive any time between 6:00 and 6:30pm

Refreshments will be available from 6:00pm onwards.

Venue:
PricewaterhouseCoopers LLP 
7 More London Riverside 
London SE1 2RT

Theme:
The speaker and theme of the evening will be advised at a later date but will be on the subject of sustainability.






| | | |
| --- | --- | --- |
| Gurteen Knowledge Cafe: SMARTlab at the University of East London | Knowledge Cafés as KM Tools. KM India 2010 | Gurteen Knowledge Cafe at KMPAP 2006 in Hong Kong |
| Introduction to the Knowledge Cafe, Greenwich 2006 | KM Egypt, Cairo, 2010 | About the Gurteen Knowledge Cafe, 2009 |
You will find information on hundreds of events such as conferences, workshops and courses on this website - events that relate to the themes of the site: knowledge, learning, creativity, innovation and personal development.

If you would like to receive an e-mail alert, no more than once a week, that informs you of recently posted events in your region then please click on the button below and complete the form. You also have the option of being reminded once a week of events coming up in your region within the next month.




On the other hand you may prefer to subscribe to an RSS Feed that will keep you informed of events in your region.
Gurteen Knowledge Community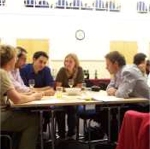 The Gurteen Knowledge Community is a global learning community of over 21,000 people in 160 countries across the world.

The community is for people who are committed to making a difference: people who wish to share and learn from each other and who strive to see the world differently, think differently and act differently.

Membership of the Gurteen Knowledge Community is free.
Knowledge Community