Date: Wednesday 12 December 2012, 6:00pm - 9:00pm. This is a free event. Please arrive at 6:00pm or shortly after, which will give you time to settle in and meet other people. Refreshments will be available. The cafe itself will start prompt at 6:30pm.

Theme: Are charities doing more harm than good by using images and stories of vulnerable children?

Charities and development agencies use images and stories of vulnerable children to generate support for their work. These are very effective 'tools' but are they in the best interest of the child? Do these stories and images in fact place children at risk of harm and are they a price worth paying to generate support for vulnerable children?

Speaker: Corinee Davey, Director, Keeping Children Safe and Director of Global Child Protection Services

Corinne Davey currently divides her time between two roles, Director of Keeping Children Safe and a Director of Global Child Protection Services. Corinne has worked in international development organisations since 2001, moving from the UK public sector. Her principle background prior to 2009 was in Human Resources Development. She began work in international development in Plan International's Asia Regional Office as their HR Advisor. She worked with the regional team in developing Plan's rights based approach, with specific focus on the people systems, structures, skills and behaviours which promote rights based programming.

She then worked with EveryChild as their Learning and Resources Director. That brief included Human Resources but also covered planning, monitoring and evaluation, child participation, child protection and briefly communications and advocacy. Corinne worked with the senior management team on the process of refocusing EveryChild's organisational strategy to work more directly with children without parental care, increase revenue and decrease costs. She led on the process for developing global, regional and country strategies, reviewing overseas programmes and partnerships to align them with the new direction.

Since 2009 Corinne's focus has been on child protection and child safeguarding. As Director of Keeping Children Safe, she has led the organisation through establishing itself as an independent organisation, setting up a consultancy service and scaling up significantly its work on communications and advocacy to promote child safeguarding within a range of organisations whose work impacts on children. As a Director of Global Child Protection Services, Corinne has worked with her colleagues on building the company's expertise in delivering a range of services for clients, with a particular focus for Corinne on organisations child protection interventions at community and local level.

Host: Florence Kiff, Plan UK

Venue:
Plan UK 
Finsgate 
5-7 Cranwood Street
London  EC1V 9LH

Room: The Break Out area (there will be signs on the ground floor directing you to the room)

Map:



Directions: From Old Street Underground Station, exit the underground station from EXIT 1, follow City Road (the main road straight ahead of you). You will pass a row of shops and cafes and the Plan Offices are just after the first road on your right.






| | | |
| --- | --- | --- |
| Gurteen Knowledge Cafe: SMARTlab at the University of East London | Knowledge Cafés as KM Tools. KM India 2010 | Gurteen Knowledge Cafe at KMPAP 2006 in Hong Kong |
| Introduction to the Knowledge Cafe, Greenwich 2006 | KM Egypt, Cairo, 2010 | About the Gurteen Knowledge Cafe, 2009 |
You will find information on hundreds of events such as conferences, workshops and courses on this website - events that relate to the themes of the site: knowledge, learning, creativity, innovation and personal development.

If you would like to receive an e-mail alert, no more than once a week, that informs you of recently posted events in your region then please click on the button below and complete the form. You also have the option of being reminded once a week of events coming up in your region within the next month.




On the other hand you may prefer to subscribe to an RSS Feed that will keep you informed of events in your region.
Gurteen Knowledge Community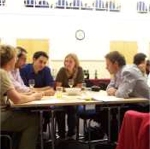 The Gurteen Knowledge Community is a global learning community of over 21,000 people in 160 countries across the world.

The community is for people who are committed to making a difference: people who wish to share and learn from each other and who strive to see the world differently, think differently and act differently.

Membership of the Gurteen Knowledge Community is free.
Knowledge Community