Date: Monday 23 September 2013, 16:00 - 18:30



This Knowledge Cafe is intended for people from Central Civil Government though a few places are available by invitation only to my Knowledge Community members. Please do not register unless you have received an invite. Note that unlike my usual London Knowledge Cafes this event runs from 16:00 to 18:30.


Speaker: Roger Smethurst is the Head of Knowledge and Information Management in Cabinet Office.

Theme: How to connect those who are searching for knowledge with those who have it and how conversation can further encourage the flow of knowledge.

Roger Smethurst will briefly set out his vision for how knowledge management can be of real value to an organisation, through helping those seeking knowledge to connect with those who already have the knowledge being sought.

A culture of sharing and a willingness to connect with colleagues are the foundation on which to build conversations that enable knowledge to be shared effectively.

Facilitator: David Gurteen will facilitate the session by talking about the role of conversation in organisations and will explain the Knowledge Cafe concept and how it can be applied. After Roger's talk, he will then facilitate a Knowledge Cafe around the central question "How can we more actively share knowledge within the workplace?"

Sponsor: Rose Atkinson, The Cabinet Office

Venue:
HM Treasury Building
1 Horse Guards Road
London SW1A 2HQ

Directions: Please report to reception in the HM Treasury Building.



The Gurteen Knowledge Cafe
David has run hundreds of Knowledge Cafes around the world in the last few years in cities such as Moscow, Washington DC, Phoenix Arizona, Jakarta, Kuala Lumpur, Singapore, Bangkok, Sydney and Wellington.

An open Knowledge Café is free and open to anyone who cares to participate. They are great social learning and networking events. Participants engage with the theme of the evening and some insightful, energetic conversations take place.

Better still, the Knowledge Café process is one that you can take back with you and use in your own organizations to help create a more collaborative and innovative culture.

What is a Gurteen Knowledge Café?

A Knowledge Cafe is a means of bringing a group of people together to have an open, creative conversation on a topic of mutual interest to surface their collective knowledge, to share ideas and insights and to gain a deeper understanding of the subject and the issues involved.

This ultimately, leads to action in the form of better decision making and innovation and thus tangible business outcomes.

The Knowledge Cafe Philosophy
Most people are not inclined to share their knowledge freely for numerous reasons. These include: the attitude that knowledge is power, a silo-mentality, a lack of time, lack of confidence, lack of trust and no perceived benefit - the list at times seems endless.

But clearly today, "sharing knowledge is power". To achieve anything in this highly competitive wired world we need to work with people more than ever: to share with them; to learn from each other and to collaborate.

However, you cannot mandate people to share. You cannot even teach them to share. People need to see the problems of not sharing and the benefits of collaboration for themselves. If they truly buy into the fact that "knowledge sharing is power" then they will overcome the barriers for themselves.

A Gurteen Knowledge Cafe brings people together to talk openly about "knowledge sharing"; to identify the barriers and how to overcome them. The participants learn to see the subject in a new light - to better understand other people's perspectives and indeed their own. And to better understand the issues. Better understanding in turn paves the way for personal change and in its turn organizational change.

This is just one application of the Cafe process but there are a multitude of others. Here are just three
transform traditional management training courses into ones where younger managers learn from more experienced ones
use as a powerful sales tool to engage customers in conversation and thus better understand their needs for and them to better understand your products or services
surface hidden problems and opportunities that exist in the organisation or in a department or project - especially ones caused by lack of communication or silo working
To get a better feel for the Knowledge Cafe - take a look at one or two of the videos below:





Gurteen Knowledge Cafe: SMARTlab
The University of East London




Knowledge Cafés as KM Tools
KM India 2010




Gurteen Knowledge Cafe
KMPAP 2006 in Hong Kong

Introduction to the Knowledge Cafe Greenwich 2006

Knowledge Management Egypt
Cairo 2010

The Gurteen Knowledge Cafe Amsterdam 2009
You will find information on hundreds of events such as conferences, workshops and courses on this website - events that relate to the themes of the site: knowledge, learning, creativity, innovation and personal development.

If you would like to receive an e-mail alert, no more than once a week, that informs you of recently posted events in your region then please click on the button below and complete the form. You also have the option of being reminded once a week of events coming up in your region within the next month.




On the other hand you may prefer to subscribe to an RSS Feed that will keep you informed of events in your region.
Gurteen Knowledge Community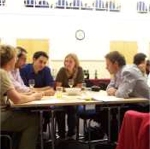 The Gurteen Knowledge Community is a global learning community of over 21,000 people in 160 countries across the world.

The community is for people who are committed to making a difference: people who wish to share and learn from each other and who strive to see the world differently, think differently and act differently.

Membership of the Gurteen Knowledge Community is free.
Knowledge Community