Date: Wednesday 16 October 2013, 6:00pm - 8:00pm. This is a free event. Please arrive at 6:00pm or shortly after, which will give you time to settle in and meet other people.

Theme: What steps do libraries and information services need to take to survive in the age of Google and instant access to information and knowledge online?

Neil Infield manager of the reference service in the Business & IP Centre at The British Library will talk about the service changes they have been made over the past seven years since opening the Centre.

In particular the move to added-value services such as workshops, one to one advice sessions and introducing partner events

The discussion will then centre around the slide Information Professionals – Old and New.

This is a great opportunity to see the Business and IP Centre which is part of the British Library and has been recognised for it's contribution to small businesses and the UK economy.



Speaker: Neil Infield - Manager of the Business & IP Centre

Neil is the Manager of the Business & IP Centre. Until 2005 he was manager of Business Information Services at Hermes Pensions Management. Neil has also been active in SLA Europe for over 15 years. You can view his blog here.

Sponsor: Neil Infield - The British Library, Manager of the Business & IP Centre

Venue:
British Library Business & IP Centre
96 Euston Road
London NW1 2DB

Room: Please report to reception and pick up your security badge. They will direct you to the room.











Gurteen Knowledge Cafe: SMARTlab
The University of East London




Knowledge Cafés as KM Tools
KM India 2010




Gurteen Knowledge Cafe
KMPAP 2006 in Hong Kong

Introduction to the Knowledge Cafe Greenwich 2006

Knowledge Management Egypt
Cairo 2010

The Gurteen Knowledge Cafe Amsterdam 2009
You will find information on hundreds of events such as conferences, workshops and courses on this website - events that relate to the themes of the site: knowledge, learning, creativity, innovation and personal development.

If you would like to receive an e-mail alert, no more than once a week, that informs you of recently posted events in your region then please click on the button below and complete the form. You also have the option of being reminded once a week of events coming up in your region within the next month.




On the other hand you may prefer to subscribe to an RSS Feed that will keep you informed of events in your region.
Gurteen Knowledge Community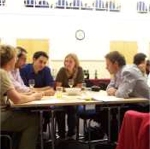 The Gurteen Knowledge Community is a global learning community of over 21,000 people in 160 countries across the world.

The community is for people who are committed to making a difference: people who wish to share and learn from each other and who strive to see the world differently, think differently and act differently.

Membership of the Gurteen Knowledge Community is free.
Knowledge Community