I am building (September 2008) a section of this website dedicated to generic KM Tools - both soft tools such as after action reviews and technology based or social tools such as wikis. At first, I plan to provide the minimum of information on each tool but to expand this over time.

You might also be interested in a sister section - My Tools - which is dedicated to hardware and software tools that I use to maintain this website and in my day to day work.

You will also find more in formation on tools and methods here and here and here.



Gurteen Knowledge Community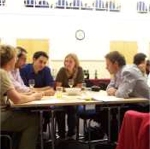 The Gurteen Knowledge Community is a global learning community of over 21,000 people in 160 countries across the world.

The community is for people who are committed to making a difference: people who wish to share and learn from each other and who strive to see the world differently, think differently and act differently.

Membership of the Gurteen Knowledge Community is free.
Knowledge Community