With market conditions still challenging, clients and management alike are demanding greater cost efficiencies and added-value services. Many firms pride themselves on these services and see them as key differentiators, with the potential to make or break tenders and pitches. This raises the question, is this environment driving innovation throughout your knowledge management (KM) function?

Last year's event really inspired you to deepen relationships, both with your firm management functions, as legal knowledge management moves more and more into aligning itself with the firm's strategic agenda; and with your clients through opening up communication lines directly with them to find out how best to meet their expectations. We also recognise the value that this event offers you as a member of the legal KM community, with the opportunity to network, share ideas and really connect with each other. Brand new for this year, David Gurteen's Knowledge Café offers a perfect opportunity to discover what others are thinking and share your own thoughts, inspirations and challenges.

Don't miss:
How White & Case, in the US and UK, have learned from the manufacturing industry and revolutionised their knowledge management process through matter lifecycle management
Duncan Ogilvy of Mills & Reeve looks back over 25 years in law firm KM and offers his thoughts on what he'd do differently if he were to start again from the beginning!
Back by popular demand, Mark Gould of Addleshaw Goddard shares his 'from theory to implementation' experience in restructuring the firm's knowledge function
An external perspective on developing a KM strategy from the European Bank for Reconstruction and Development
Charles Christian, expert technologist, explores how consumerisation is driving technology trends and what knowledge management mega trends are coming your way
Legal KM newcomer Lorna Ferguson of Bird & Bird shares her experience gained from KPMG and why we should start thinking more strategically
Plus many more innovative case studies and expert opinions to optimise your KM Legal experience and help you to deliver best practice within your KM programme.

We understand your quest for knowledge and this conference offers an opportunity to engage, discuss and to benefit from the wealth of experience shared by our expert speakers.

Register today to arm yourself with the tools and know how you need to build and deliver the solutions that are right for your firm.



If you find a KM Event then tweet it and add the tag #kmevent





Presentation: Measuring KM, measures, targets and rewards





You will find information on hundreds of events such as conferences, workshops and courses on this website - events that relate to the themes of the site: knowledge, learning, creativity, innovation and personal development.

If you would like to receive an e-mail alert, no more than once a week, that informs you of recently posted events in your region then please click on the button below and complete the form. You also have the option of being reminded once a week of events coming up in your region within the next month.




On the other hand you may prefer to subscribe to an RSS Feed that will keep you informed of events in your region.
Gurteen Knowledge Community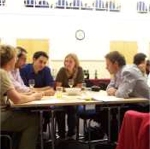 The Gurteen Knowledge Community is a global learning community of over 21,000 people in 160 countries across the world.

The community is for people who are committed to making a difference: people who wish to share and learn from each other and who strive to see the world differently, think differently and act differently.

Membership of the Gurteen Knowledge Community is free.
Knowledge Community