We would like to invite you to the free international knowledge event on November 15th 2011, organized by the University of Edinburgh in collaboration with the Scottish Government. This event is aimed at Senior or Executive Managers across public, private and third sector organisations.

The event will celebrate the new University of Edinburgh Knowledge-Network (K-Net) project. The K-Net brochure, including event details, can be found here: http://theknowledgecore.files.wordpress.com/2011/09/knet-brochure-v61.pdf

Speaker bios and the outline of key sessions can be found here: http://theknowledgecore.files.wordpress.com/2011/09/k-net-2011-bio-and-session-outline.pdf

Speakers include David Gurteen and Perigean Technologies from USA.

The event will highlight case studies for the practical application of organisational knowledge and learning diagnostics that respond to the strategic need to stimulate creativity; to innovate; to improve decision-making capability; to become more adaptive and dynamic; and to protect, develop, retain, share and apply knowledge resources.

British and international guests attending the event are invited to take part in a free knowledge clinic on November 14th. This clinic will allow you one-on-one time with leading international applied researchers in the field of organisational knowledge and learning who will take the time to understand your challenges, exchange ideas and suggest practical solutions that can bring value to the workplace.

We hope that you will consider joining us for the launch of what we hope will be an exciting project. If you decide to register for the event, please use the following link: http://t.co/5tZAsB2

Please do not hesitate to contact Teodora Lekic, K-Net Event Manager, at t.lekic@sms.ed.ac.uk if you would like further details about the event.





You will find information on hundreds of events such as conferences, workshops and courses on this website - events that relate to the themes of the site: knowledge, learning, creativity, innovation and personal development.

If you would like to receive an e-mail alert, no more than once a week, that informs you of recently posted events in your region then please click on the button below and complete the form. You also have the option of being reminded once a week of events coming up in your region within the next month.




On the other hand you may prefer to subscribe to an RSS Feed that will keep you informed of events in your region.



Gurteen Knowledge Community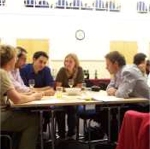 The Gurteen Knowledge Community is a global learning community of over 21,000 people in 160 countries across the world.

The community is for people who are committed to making a difference: people who wish to share and learn from each other and who strive to see the world differently, think differently and act differently.

Membership of the Gurteen Knowledge Community is free.
Knowledge Community