Intranet Focus provides consulting services on the design and enhancement of intranets and extranets, electronic publishing strategies, the development of portal sites, evaluation of portal vendors, and advice on data protection and electronic copyright compliance.




Video: What is Innovation?



O que David Gurteen pensa sobre inovação from iGovSP - O que você pensa? on Vimeo.

– David Gurteen é consultor na área de gestão do conhecimento. Ele fundou o Gurteen Knowledge Community (Comunidade de Conhecimento) um ambiente de aprendizagem e troca de conhecimento e experiências composto por mais de 14.000 pessoas espalhadas em 153 países diferentes. Nesse vídeo, Gurteen fala o que pensa sobre inovação.





Gurteen Knowledge Community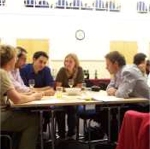 The Gurteen Knowledge Community is a global learning community of over 21,000 people in 160 countries across the world.

The community is for people who are committed to making a difference: people who wish to share and learn from each other and who strive to see the world differently, think differently and act differently.

Membership of the Gurteen Knowledge Community is free.
Knowledge Community