Inter-logics is a small UK-based, consultancy specialising in the development and application of organisational methods and tools which enable communities and organisations to co-ordinate activity and to succeed in getting things done together.




Flickr Slideshow: Braintrust International 2007, Cambridge, Maryland







Gurteen Knowledge Community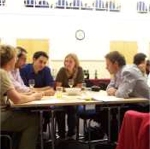 The Gurteen Knowledge Community is a global learning community of over 21,000 people in 160 countries across the world.

The community is for people who are committed to making a difference: people who wish to share and learn from each other and who strive to see the world differently, think differently and act differently.

Membership of the Gurteen Knowledge Community is free.
Knowledge Community