My Knowledge Cafe workshops in 2011 were a great success and I will be running another one-day event on Wednesday 2nd May 2012, at the RSA in central London.

The event is a one-day face-to-face event and runs from 09:30 to 16:30. This incudes two coffee breaks and lunch. Full refreshments are provided. This cost is £495 plus VAT.  Discounts are available.



The Gurteen Knowledge Café Workshop

This Workshop is designed to help you:
Understand the role and importance of conversation in your business
Design and run Gurteen Knowledge Cafés and other forms of Cafe
Solve specific business problems and challenges using Knowledge Cafes
Use other conversational tools and techniques to address business issues
About the workshop
The most widespread and pervasive learning in your organization may not be happening in training rooms, conference rooms or board rooms but in the cafeteria, the hallways and the cafe across the street.


Knowledge Sharing is a key issue for Knowledge Management and for organizational success. But real Knowledge Sharing requires an open mindset and continues to be a challenge for many organizations. In fact, it can be difficult to even get people to talk openly to one another other about their specific corporate interests, opportunities and responsibilities.

One way of energizing an organization to take real advantage of conversation and consequent tangible business benefits is the use of Knowledge Cafés. A Knowledge Café is an effective vehicle for opening up conversations and discussions that lead to a deeper understanding of the business world that is turn leads to improved decision making, new ways of working and innovation.

A Knowledge Café is a tool that is used to share tacit knowledge. It can be used within teams, Communities of Practice or across silos to question entrenched assumptions, to help facilitate learning from others and gain a deeper collective understanding of a subject – through conversation.

It is not just about talking and networking though these are secondary benefits but allowing people to engage each other in "dialogue" with the aim of learning from each other rather than entering into unproductive debate and attempting to impose their views on the other which invariably end in failure and frustration.

Knowledge Cafes can be used for many business ends. Here are some specific examples:
turn a traditional chalk and talk, death by PowerPoint presentation or meeting into an engaging learning event
transform an internal conference from a series of boring lectures into an exciting day
transform traditional management training courses where younger managers learn from more experienced ones
as a powerful sales tool to engage customers in conversation and thus better understand their needs for and them to better understand your product or service
surface hidden problems and opportunities that exist in the organisation or in a department or project - especially ones caused by lack of communication
break down organizational silos
encourage knowledge sharing and the creation of a knowledge sharing culture
give people a voice so that they feel heard and are thus less cynical and more engaged in their work
bring managers and technologists together after a merger to build relationships, surface new opportunities and address cultural issues
build and improve relationships
improve business networking and make new connections
solicit input and obtain buy-in for a new project or initiative
as part or replacement for a paper survey or interview (the problem is that until people talk - their knowledge fails to surface)
as a stimulus to innovation: Knowledge Cafes connect people to people; people to ideas and ideas to ideas; they challenge people to reflect on their thinking; surface new ideas and make new connections
In effect the Knowledge Café is an easy, low cost way to make Knowledge Sharing really work for you and your organization.

In this workshop you will get to understand the desired outcomes, fundamental principals and benefits of the Knowledge Café process. You will go on to participate in a Knowledge Café; to experience the benefits first hand and to reflect on and discuss the experience within the session.

You will leave the workshop understanding the power of the Knowledge Café and with sufficient knowledge to run to one.

Who should attend

The workshop is designed for anyone who is tasked or involved in developing a knowledge sharing or more innovative culture within their organization or looking to encourage and faciliate more purposeful, constructive and creative conversation in their teams or organisations. Including:
Facilitators
Project Leaders
Trainers
Community of Practice Leaders
and professionals in
Change Management
Human Resources
Knowledge Management
Learning and Development
Organization Development
About the workshop leader

David has over 30 years' experience working in high technology industries. Today, he works as an independent knowledge management advisor, facilitator and speaker, helping people to innovate and to work together more effectively.

He is the founder of the Gurteen Knowledge Community - a global learning network of over 17,000 people in 160 countries. Community members receive his free monthly Knowledge Letter that is now in its 11h year.

David publishes the Gurteen Knowledge Website – a resource website that contains book reviews, articles, people profiles, event calendars, inspirational quotations, an integral weblog and more on subjects that include knowledge management, learning, creativity and innovation

He is a frequent speaker and facilitator and presents on various aspects of knowledge management and social learning. He is well known for his Gurteen Knowledge Cafés and Knowledge Café Masterclasses that he runs regularly in London and in other cities around the world.

In June 2010, David won the Ark Group's lifetime achievement award for services to KM For most of his career David was a professional software development manager and in the late 80s worked for Lotus Development as "International Czar" where he was responsible for ensuring that Lotus products were designed for the global marketplace.

Registration

This event costs £495 plus VAT. To register - please click the button below and complete the registration form.






| | | |
| --- | --- | --- |
| Gurteen Knowledge Cafe: SMARTlab at the University of East London | Knowledge Cafés as KM Tools. KM India 2010 | Gurteen Knowledge Cafe at KMPAP 2006 in Hong Kong |
| Introduction to the Knowledge Cafe, Greenwich 2006 | KM Egypt, Cairo, 2010 | About the Gurteen Knowledge Cafe, 2009 |
You will find information on hundreds of events such as conferences, workshops and courses on this website - events that relate to the themes of the site: knowledge, learning, creativity, innovation and personal development.

If you would like to receive an e-mail alert, no more than once a week, that informs you of recently posted events in your region then please click on the button below and complete the form. You also have the option of being reminded once a week of events coming up in your region within the next month.




On the other hand you may prefer to subscribe to an RSS Feed that will keep you informed of events in your region.
Gurteen Knowledge Community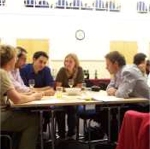 The Gurteen Knowledge Community is a global learning community of over 21,000 people in 160 countries across the world.

The community is for people who are committed to making a difference: people who wish to share and learn from each other and who strive to see the world differently, think differently and act differently.

Membership of the Gurteen Knowledge Community is free.
Knowledge Community