The Centre for Information Management at Loughborough University, in collaboration with the British Computer Society Data Management Specialist Group, is pleased to announce its inaugural International Data and Information Management Conference (IDIMC), taking place on 17th September 2014.
The conference will bring together researchers, managers and policy makers from academia, industry, government, commerce and the third sector. The overarching theme of this year's conference is 'making connections' to reflect the interconnected nature of data, knowledge creation and information management.
The day will comprise a series of invited and contributed papers and posters and excellent networking opportunities throughout the day.
Conference theme: Making Connections
The information society and knowledge based economy rely on the organisation and retrieval of data and information; the processes associated with knowledge creation; and the knowledge required to design, develop and implement solutions that enable the exploitation of knowledge, data and information. However, it is when the contribution of these strands of important research are combined and integrated that their influence has the power to make breakthrough impacts on the information society and knowledge based economy. Therefore, the overarching theme of the conference is 'making connections', and we particularly encourage papers that reflect the interconnections and links between some of the key areas of interest outlined below.

Flickr Slideshow: Braintrust International 2007, Cambridge, Maryland







You will find information on hundreds of events such as conferences, workshops and courses on this website - events that relate to the themes of the site: knowledge, learning, creativity, innovation and personal development.

If you would like to receive an e-mail alert, no more than once a week, that informs you of recently posted events in your region then please click on the button below and complete the form. You also have the option of being reminded once a week of events coming up in your region within the next month.




On the other hand you may prefer to subscribe to an RSS Feed that will keep you informed of events in your region.
Gurteen Knowledge Community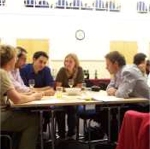 The Gurteen Knowledge Community is a global learning community of over 21,000 people in 160 countries across the world.

The community is for people who are committed to making a difference: people who wish to share and learn from each other and who strive to see the world differently, think differently and act differently.

Membership of the Gurteen Knowledge Community is free.
Knowledge Community