FeedBurner does a wonderful job of making your RSS Feeds more user friendly and accessible. It also enables you to track the subscribers to your feeds. I use it to customize and track my feeds.

I am using it for several of my feeds including the main RSS Feed for this website.

I am also using one of their customized banner ads. See the top right hand side of this page.

Gurteen Knowledge Community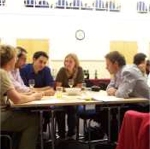 The Gurteen Knowledge Community is a global learning community of over 21,000 people in 160 countries across the world.

The community is for people who are committed to making a difference: people who wish to share and learn from each other and who strive to see the world differently, think differently and act differently.

Membership of the Gurteen Knowledge Community is free.
Knowledge Community