He has been working in and around the internet since 1997 when he helped set up a community music webcasting outfit in a warehouse in Hackney, London. He doesn't really like computers but thinks it is great what we can do with them, as long as we think about it first and draw on our wide range of human experiences and intelligence before rushing headlong into software 'solutions'.

He has a particular fondness for working on 'events' of all natures - from virtual problem solving workshops to physical festivals. He feels you can learn a huge amount about teamwork, collaboration, knowledge, management, communication and dispute resolution (not forgetting complex systems and emergence) by putting up marquees in the rain in a field to a ridiculously tight deadline.

He likes to tie his work into ongoing research and regularly presents papers at conferences around Europe.

From 2004 to 2006 he was Editor on the EC research network KnowledgeBoard. As well as maintaining equilibrium for 13,000 members on the website and in the physical world, he launched a highly experimental and successful series of events and research opportunities called Contactivity. He was also deeply involved in the publication of KnowledgeBoard's first community book which was free and full of members' real world KM case studies. He worked with the KB partners on a new thread of CoP research, which they workshopped and presented at different on and offline gatherings.

http://www.edmitchell.co.uk



Ed is also the regional director for the Gurteen Knowledge Community in Bristol, England.


| | |
| --- | --- |
| Google Video Search | Loading... |

Hands on Knowledge Co-creation and Sharing
Gurteen Knowledge-Log, David Gurteen, 14 October 2007



Ed Mitchell
Gurteen Knowledge Community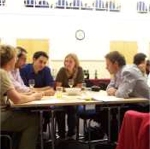 The Gurteen Knowledge Community is a global learning community of over 21,000 people in 160 countries across the world.

The community is for people who are committed to making a difference: people who wish to share and learn from each other and who strive to see the world differently, think differently and act differently.

Membership of the Gurteen Knowledge Community is free.
Knowledge Community