The Conference Board creates and disseminates knowledge about management and the marketplace to help businesses strengthen their performance and better serve society. Working as a global, independent membership organization in the public interest, they conduct research, convene conferences, make forecasts, assess trends, publish information and analysis, and bring executives together to learn from one another.




Flickr Slideshow: Braintrust International 2007, Cambridge, Maryland







Gurteen Knowledge Community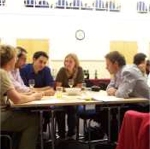 The Gurteen Knowledge Community is a global learning community of over 21,000 people in 160 countries across the world.

The community is for people who are committed to making a difference: people who wish to share and learn from each other and who strive to see the world differently, think differently and act differently.

Membership of the Gurteen Knowledge Community is free.
Knowledge Community