President Bill Clinton launched the Clinton Global Initiative (CGI) in 2005 as a non-partisan catalyst for action, bringing together a community of global leaders to devise and implement innovative solutions to some of the world's most pressing challenges.

As a non-profit endeavor of the William J. Clinton Foundation, CGI draws strength from a highly diverse membership base that represents the full spectrum of political, ideological, religious, ethnic, and geographic backgrounds. Members include current and former heads of state, top business executives, preeminent scholars, and representatives of key non-governmental organizations working together for a common cause.

The defining characteristics of the Clinton Global Initiative are its action-oriented nature and its track record of converting pioneering ideas into viable solutions with tangible results. CGI members develop 'commitments to action', focusing on practical, effective problem-solving measures that can be taken now. Member commitments are comprehensive, formal plans of action with timetables for evaluating progress. They are developed within one or more CGI areas of focus, which change annually to address the most imperative global issues requiring attention. We have designated education, energy & climate change, global health, and poverty alleviation as the areas of focus for 2007.

In this era of remarkable global interdependence, ensuring more equitable access to existing and future resources is a moral and practical imperative for us all.



Gurteen Knowledge Community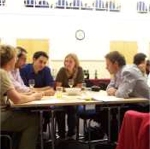 The Gurteen Knowledge Community is a global learning community of over 21,000 people in 160 countries across the world.

The community is for people who are committed to making a difference: people who wish to share and learn from each other and who strive to see the world differently, think differently and act differently.

Membership of the Gurteen Knowledge Community is free.
Knowledge Community