The Centre for KDD is part of Stellenbosch University in South Africa. Their academic focus is informatics within the broad context of the Knowledge economy and society. The most important areas in which they specialise are Business and Governmental Information Systems, Knowledge Management and Decision-making.




Video: David Gurteen on who should drive innovation





David Gurteen on who should drive innovation.

The Institute for Research and Innovation in Social Services (IRISS)

, Glasgow.

Media Information:



Gurteen Knowledge Community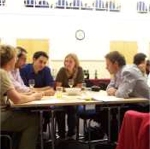 The Gurteen Knowledge Community is a global learning community of over 21,000 people in 160 countries across the world.

The community is for people who are committed to making a difference: people who wish to share and learn from each other and who strive to see the world differently, think differently and act differently.

Membership of the Gurteen Knowledge Community is free.
Knowledge Community