Business Futures is a futures consulting group of eight partners based in Europe, the USA and Japan. Established in 1988 when the founders left the California-based Stanford Research Institute, Business Futures started as a group of corporate executives from fifteen international companies.




Video: Twitter in Plain English







Gurteen Knowledge Community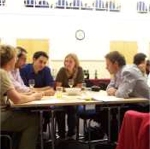 The Gurteen Knowledge Community is a global learning community of over 21,000 people in 160 countries across the world.

The community is for people who are committed to making a difference: people who wish to share and learn from each other and who strive to see the world differently, think differently and act differently.

Membership of the Gurteen Knowledge Community is free.
Knowledge Community