Join us for Beyond Enterprise 2.0 to discuss how to turn crisis into opportunity by increasing employee productivity and embracing change. 
This international summit will bring together cross-industry senior executives to discuss key issues on maximizing internal communications through social media.

To maximise knowledge exchange and generate actionable results, we have carefully designed the conference format to be interactive, "hands-on" and productive. The event will begin with an exhibitor showcase, featuring the latest resources for increasing employee productivities with social technologies. The showcase will be followed by  our distinguished speakers, panel discussions and a "hands-on" brainstorming workshop session.
Topics include:
Maximising internal communications through social media tools and platforms 
Creating a strong brand internally whilst building motivation through video
Building international communities, driving collaboration and expertise sharing by taking advantage of social media
Understanding how to roll out an Enterprise 2.0 Strategy across the whole company globally
Creating internal guidelines and a governance policy to ensure social media will be used in the most effective and appropriate way internally
Effectively measuring ROI
Incorporating online and social media tools into traditional Intranet platforms and communications
How to ensure employee usage and engagement of Enterprise 2.0 initiatives
Motivating employees through gamification
Utilising new web 2.0 tools to increase knowledge management
Who should attend:
The executives that will realise the greatest benefit through attendance include CIO, SVPs, VPs, Board Members, Directors, Senior Managers, Executives in charge of:
Corporate Communications
B2E / Employee Communications
Internal Communications
Employee / B2E Portal
Communications
Corporate Affairs
Webmaster
Social Media / Electronic Media / New Media / Interactive Media
eBusiness
Enterprise 2.0
Intranet
IT
Innovation
HR Systems
Digital Communications
Knowledge Management
 Questions? Contact us at +31643001954 or info@kgsglobal.com
Official Twitter hashtag: #be20
If you find a KM Event then tweet it and add the tag #kmevent

Video: What Is Web 2.0? Short Version documentary







You will find information on hundreds of events such as conferences, workshops and courses on this website - events that relate to the themes of the site: knowledge, learning, creativity, innovation and personal development.

If you would like to receive an e-mail alert, no more than once a week, that informs you of recently posted events in your region then please click on the button below and complete the form. You also have the option of being reminded once a week of events coming up in your region within the next month.




On the other hand you may prefer to subscribe to an RSS Feed that will keep you informed of events in your region.
Gurteen Knowledge Community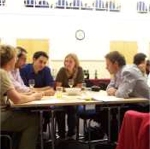 The Gurteen Knowledge Community is a global learning community of over 21,000 people in 160 countries across the world.

The community is for people who are committed to making a difference: people who wish to share and learn from each other and who strive to see the world differently, think differently and act differently.

Membership of the Gurteen Knowledge Community is free.
Knowledge Community