There are an increasing number of conferences and events in the knowledge world that have been running annually for several years. This section of my website lists most, if not all, of the major ones.

If you are looking for details of specific annual and non-annual events then you will find them in the Event Calendar section of this site.



KM in all its forms is a huge world-wide movement and I work continuously to pull together details of all the global KM activity around the world both off-line and on-line. If you are seeking to engage in the global KM world then attending conferences or workshops or a KM course or joining an on-line KM discussion forum or social network is a great way to get started. Here are some KM Resources that may be of help.





You will find information on hundreds of events such as conferences, workshops and courses on this website - events that relate to the themes of the site: knowledge, learning, creativity, innovation and personal development.

If you would like to receive an e-mail alert, no more than once a week, that informs you of recently posted events in your region then please click on the button below and complete the form. You also have the option of being reminded once a week of events coming up in your region within the next month.




On the other hand you may prefer to subscribe to an RSS Feed that will keep you informed of events in your region.






Gurteen Knowledge Community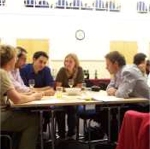 The Gurteen Knowledge Community is a global learning community of over 21,000 people in 160 countries across the world.

The community is for people who are committed to making a difference: people who wish to share and learn from each other and who strive to see the world differently, think differently and act differently.

Membership of the Gurteen Knowledge Community is free.
Knowledge Community