Crexia presents the Social Workplace Conference, to be held in London on 1st November 2011.
Social Workplace Conference 2011 will bring together Senior Executives to discuss the impact of Social Media in Workplace. The conference will also explore the growing applications of Social Software for HR, Internal Communications & Employee Collaborations.
#SWCONF 2011 is a Social Media Strategy conference focused on Employee Engagement and Talent Management via Enterprise 2.0 and Social Software. It will feature practical and realistic case studies from organisations, with engaging presentations from our speakers and panelists.
Target Audience
CXOs and Directors, Senior Executives, Managers and Professionals within: Human Resources, Internal Communications, Employee Engagement, Employee Communications, Public Relations, Employee Relationships, Employee Communities, Intranet Administration, Talent Management, Learning & Development, Academia, Social Media, Enterprise 2.0 etc
You can visit the Social Workplace Conference website and please follow us on twitter.

Video: What Is Web 2.0? Short Version documentary







You will find information on hundreds of events such as conferences, workshops and courses on this website - events that relate to the themes of the site: knowledge, learning, creativity, innovation and personal development.

If you would like to receive an e-mail alert, no more than once a week, that informs you of recently posted events in your region then please click on the button below and complete the form. You also have the option of being reminded once a week of events coming up in your region within the next month.




On the other hand you may prefer to subscribe to an RSS Feed that will keep you informed of events in your region.
Gurteen Knowledge Community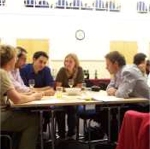 The Gurteen Knowledge Community is a global learning community of over 21,000 people in 160 countries across the world.

The community is for people who are committed to making a difference: people who wish to share and learn from each other and who strive to see the world differently, think differently and act differently.

Membership of the Gurteen Knowledge Community is free.
Knowledge Community