Knowledge Cafes have been successfully running in Liverpool for over 6 years. With an established Liverpool presence a Manchester launch has now been planned to be held on June 28th at Starbucks Trafford Park Manchester. The Café will start at 6pm with a coffee tasting session and nibbles provided by Starbucks. The programme will then begin at 6.30 and go on until 9pm. The original concept and purpose of the knowledge cafe will be explained, such as allowing people a voice for them to feel heard, a stimulus for innovation by challenging people to reflect on their thinking and helping them surface new ideas, making new connections and breaking down organizational silos This initial Manchester launch will explain the background, format and purpose of the Knowledge Café concept. Following this will be specific question/s around the subject of knowledge cafes as an area of discussion for the rest of the evening. For more information please contact Arshad Ahmed directly via email or phone on 07917 087856 or register via the Knowledge Café 0151 Groupsite (also free to register) organised by Peter Bond.



Flickr Slideshow: Braintrust International 2007, Cambridge, Maryland





You will find information on hundreds of events such as conferences, workshops and courses on this website - events that relate to the themes of the site: knowledge, learning, creativity, innovation and personal development.

If you would like to receive an e-mail alert, no more than once a week, that informs you of recently posted events in your region then please click on the button below and complete the form. You also have the option of being reminded once a week of events coming up in your region within the next month.




On the other hand you may prefer to subscribe to an RSS Feed that will keep you informed of events in your region.
Gurteen Knowledge Community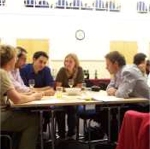 The Gurteen Knowledge Community is a global learning community of over 21,000 people in 160 countries across the world.

The community is for people who are committed to making a difference: people who wish to share and learn from each other and who strive to see the world differently, think differently and act differently.

Membership of the Gurteen Knowledge Community is free.
Knowledge Community