Outline -
Background to the dynamics if business / social media and knowledge
The nature of social media and its relationship to individual / collective benefits & tensions
The use of new social media tools inside a business and the effects on core IT and users
Lessons learnt from recent experiences in tying social media & KM
Expected roadmap & drivers for business process and technology applications
Possible future outcomes when social media and KM catalyse the way we work and the ambitions we have

Bio -
Andrew Woolfson has over 25 years experience working in information, IT and knowledge management. Andrew is currently the Director of Knowledge Management & Capability at Reynolds Porter Chamberlain LLP - a city based law firm. Previously Andrew spent 2 years as the Global Director for IT & knowledge at BDO International and 11 years as BDO UK's Knowledge Director. Prior to BDO Andrew has worked in a variety of information and knowledge roles for KPMG, Reuters, Shell and Oxford Analytica. Andrew's career to date has tracked the rise of KM as a key aspect to the way organisations mobilise their experience, capabilities and knowledge. He is currently involved in a KTP with the University of Westminster in the area of social media based KM solutions.

His passion is knowledge management, but he now links this into the deployment of an innovative social media framework. Which he perceives to be the bridge to link people and their tasks, liberating their knowledge and innovation to make tasks easier to complete and enhancing effectiveness and productivity. He recognises that technology is the enabler that needs to become an everyday tool, and that addressing the social and behavioural aspects are as essential as the deployment of the tools themselves in shifting use from early adopters, to the whole firm.



Flickr Slideshow: Jakarta visit July 2008





You will find information on hundreds of events such as conferences, workshops and courses on this website - events that relate to the themes of the site: knowledge, learning, creativity, innovation and personal development.

If you would like to receive an e-mail alert, no more than once a week, that informs you of recently posted events in your region then please click on the button below and complete the form. You also have the option of being reminded once a week of events coming up in your region within the next month.




On the other hand you may prefer to subscribe to an RSS Feed that will keep you informed of events in your region.
Gurteen Knowledge Community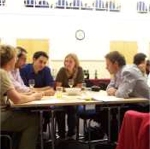 The Gurteen Knowledge Community is a global learning community of over 21,000 people in 160 countries across the world.

The community is for people who are committed to making a difference: people who wish to share and learn from each other and who strive to see the world differently, think differently and act differently.

Membership of the Gurteen Knowledge Community is free.
Knowledge Community