LAC Federal
is seeking a Law Librarian with experience in Legal Databases including managing and tracking legal document workflow and creating and populating legal and administrative forms. This is a 1+ year full time position (40 hour a week; Monday-Friday) benefited.

Responsibilities
Manage and track legal document workflows, and to create and populate legal and administrative forms in Adobe, Microsoft Word, InfoPath and other tools.

The Librarian will be responsible for Knowledge Management using SharePoint to support office staff, creating and maintaining digital libraries containing relevant documents and articles on specific legal topics, training staff on the use of the KM tools and other information products, and providing research assistance.
Qualifications
Education Qualifications:
Masters of Library and Information Science (MLIS) with a Special Certificate in Law Librarianship
Two years as a professional law librarian


error


If you would like to receive an e-mail alert whenever a new job in your region is posted on this website then please click the button below and complete the form. Alternatively, a number of regional RSS feeds are available.






If you are interested in Knowledge Management, the

Knowledge Café

or the role of conversation in organizational life then you my be interested in this online book I am writing on

Conversational Leadership
Gurteen Knowledge Community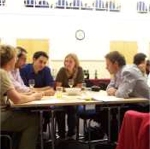 The Gurteen Knowledge Community is a global learning community of over 21,000 people in 160 countries across the world.

The community is for people who are committed to making a difference: people who wish to share and learn from each other and who strive to see the world differently, think differently and act differently.

Membership of the Gurteen Knowledge Community is free.
Knowledge Community