Grant Thornton is looking to hire a Director of KM to lead the knowledge sharing and collaboration efforts for our U.S. Tax professional services practice. This is a senior role that will report to the CKO. Candidates must have 10-15 years of professional experience, including 5-8 years of knowledge management in a global professional services organization, prior external Tax consulting experience with a recognized professional services firm, and experience managing an offshore team. This is a US-only based role.

error


If you would like to receive an e-mail alert whenever a new job in your region is posted on this website then please click the button below and complete the form. Alternatively, a number of regional RSS feeds are available.





Gurteen Knowledge Community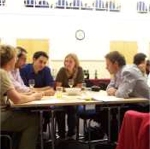 The Gurteen Knowledge Community is a global learning community of over 21,000 people in 160 countries across the world.

The community is for people who are committed to making a difference: people who wish to share and learn from each other and who strive to see the world differently, think differently and act differently.

Membership of the Gurteen Knowledge Community is free.
Knowledge Community