A global law firm based in London is recruiting a Knowledge and Information Analyst to join their busy team. This role will support the research and knowledge teams with the provision of research services, legal know-how and other information and training.

The role will include the following:

·Providing legal and business research queries using electronic and hard copy resources.
·Participating in the planning for new technologies and products.
·Regularly updating intranet pages and creating new pages and content.
·Assist in the maintenance and development of various knowledge databases
·Training users on research and knowledge resources.
·Providing a current awareness service.

In order to be considered for this role, you will need the following skills and experience:
·Legal and business research skills gained in a legal library.
·Using and maintaining knowledge and other databases.
·Experience of on-line sources such as Westlaw UK, Westlaw US, Lexis Library, Lexis Advance, Practical Law, Perfect Information and Mergermarket.
·Indexing and classification experience.
·Legal or library and information qualification or planning on undertaking a library qualification in the near future.

This role is ideal for a recent graduate or someone with legal experience planning to undertake the library qualification.

CB Resourcing operates as both an employment agency and an employment business. Applicants will need to be able to provide us with proof of their eligibility to work in the UK upon request.


error


If you would like to receive an e-mail alert whenever a new job in your region is posted on this website then please click the button below and complete the form. Alternatively, a number of regional RSS feeds are available.





Gurteen Knowledge Community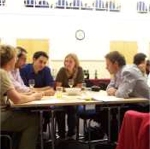 The Gurteen Knowledge Community is a global learning community of over 21,000 people in 160 countries across the world.

The community is for people who are committed to making a difference: people who wish to share and learn from each other and who strive to see the world differently, think differently and act differently.

Membership of the Gurteen Knowledge Community is free.
Knowledge Community