Knowledge Analyst (financial services practice), professional services firm – Hong Kong
Global professional services firm requires a Knowledge Analyst for their growing Financial Services practice. The role of the Knowledge Analyst is to provide support necessary to help the FS practice to maintain a superior level of understanding of industry and company specific trends. The Knowledge Analyst will work across the full range of sub-sectors and functional areas served in the Asian Pacific Financial Services Practice. The main focus of the role is to oversee the efficient maintenance and distribution of knowledge and creation of the highest quality deliverables in support of new business and intellectual capital development.
The Knowledge Analyst will be at the center of practice operations and will be responsible for overseeing and enhancing the performance of many of the practice's support functions including:
• knowledge building
• knowledge management
• marketing and new business support
• market and Practice analysis
• supporting the development of the Practice
Main responsibilities:
• Assist in developing a knowledge agenda aligned with the APAC and the global practice's objectives. Work with the APAC Financial Services Head, specialty practice leaders and peer Knowledge Managers in other regions to establish clear knowledge goals, objectives and priorities for the practice.
• Work with the practice leader(s) to identify potential new business opportunities. Understand the practice's competitive landscape. Evaluate the practice's sector strengths and weaknesses and identify areas of potential growth.
• Actively support new business development efforts for consultants in the practice by helping with pitch documentation, maintaining accurate, complete, and up-to-date lists of "relevant assignments" in flexible, client-ready formats.
• Help to drive the development of intellectual capital for the practice. Contribute and support major knowledge initiatives, including practice consultants' knowledge development efforts such as white papers, presentations, articles and events.
• Become an in-house knowledge expert on financial service industry sectors; identify and synthesize key trends in financial services.
• Oversee knowledge management tools and systems including content management; adding to and periodic refreshing of internal knowledge management resources.
• Develop relevant networks of thoughtfully cultivated industry experts to keep in touch with what is going on in the industry.
• Facilitate the development of robust mailing lists and develop a practice-wide mailing agenda and ensure the practice is doing regular mailings. Develop a prioritized and appropriately supported intellectual capital mailing schedule.
• Provide comprehensive tracking and analysis of practice pricing.
To be considered for this role you will need the following skills and experience:
The ideal candidate will have a genuine interest in the issues facing the financial services industry across sectors, have experience developing high-quality client deliverables including marketing presentations and intellectual capital pieces. S/he will also be skilled at working across geographies and functions within the organization to produce timely results.
• Graduate, ideally in a related discipline
• Must have had prior international experience or exposure
• Financial Services and/or Professional Services background is desirable
• Understanding of cultural differences within the Asian Pacific region
• Excellent verbal and written communication skills are a must
• Needs to be a self-starter as will be remotely located from main stakeholders
• Ability to multi-task and simultaneously managing multiple time-sensitive demands
• Fluency in Mandarin and English is required
CB Resourcing operates as both an employment agency and an employment business.

error


If you would like to receive an e-mail alert whenever a new job in your region is posted on this website then please click the button below and complete the form. Alternatively, a number of regional RSS feeds are available.





Gurteen Knowledge Community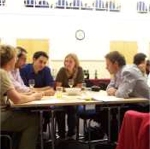 The Gurteen Knowledge Community is a global learning community of over 21,000 people in 160 countries across the world.

The community is for people who are committed to making a difference: people who wish to share and learn from each other and who strive to see the world differently, think differently and act differently.

Membership of the Gurteen Knowledge Community is free.
Knowledge Community