A global professional services business is looking for a Knowledge Management Specialist for their London office. This role is responsible for collecting, organising and promoting the organisation's knowledge assets working with colleagues of all levels across the organisation.
The role will include the following responsibilities:
• Collecting knowledge assets and uploading them to the knowledge management system.
• Guiding team on how to load relevant content.
• Ensures content is correctly tagged for easy retrieval.
• Part of a global team implementing knowledge management.
• Working with colleagues to ensure a culture of knowledge sharing.
• Responsible for knowledge sharing, and collaboration including means of continuously improving knowledge management programs and solutions
In order to be considered for this role, you will need the following skills and experience:
• At least 5 years of work experience, in a professional services environment.
• Knowledge management experience.
• Business related degree.
• Ability to communicate with senior business executives is essential.
• Experience with PowerPoint presentations
• Strong interpersonal skills, collaborative and a team-player
• Good business sense and judgement
CB Resourcing operates as both an employment agency and an employment business. Applicants will need to be able to provide us with proof of their eligibility to work in the UK upon request.

error


If you would like to receive an e-mail alert whenever a new job in your region is posted on this website then please click the button below and complete the form. Alternatively, a number of regional RSS feeds are available.





Gurteen Knowledge Community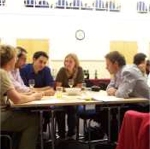 The Gurteen Knowledge Community is a global learning community of over 21,000 people in 160 countries across the world.

The community is for people who are committed to making a difference: people who wish to share and learn from each other and who strive to see the world differently, think differently and act differently.

Membership of the Gurteen Knowledge Community is free.
Knowledge Community