Newly created role! A large UK charity with an international reach is looking for a Knowledge Advisor to be based in the West Midlands or London. This role will be part of a key team making better use of knowledge and learning. You will assist in developing and delivering new ways of managing knowledge and will understand the key elements of a successful learning organisation.
This role will include the following: 
• Devising and implementing effective strategies, tools, techniques and events to increase the flow and sharing of knowledge and learning. 
• Support the identification of priority topics as a focus for knowledge and learning products and initiatives. 
• Gather, organise, synthesise and share the organisation's knowledge. 
• Support the development and growth of peer to peer community support networks through a range of channels. 
• Build a culture of knowledge sharing by communicating success stories to motivate others to collaborate and contribute. 
• Develop and deploy training materials and events to support a culture of Knowledge Management and organisational learning. 
• Drive a process of continuous improvement.
In order to be considered for this role, you will need:
• Awareness of best practice in Knowledge Management or organisational learning tools and techniques plus experience developing and implementing knowledge and learning solutions.
• Experience of developing and facilitating collaboration, networking and using negotiation and influencing skills.
• Experience of providing a solution focused approach to problems and challenges.
• Facilitation and public speaking skills.
• Ability to produce copy to convey complex ideas in a clear and compelling manner.
• Excellent communication skills through a range of channels, including digital and social media.
• The ability to source, critically appraise and evaluate sources of information.
• Project management and planning skills.
• An ability to seek out and develop opportunities to try new ways of working.
• Experience working in the third sector or a government body would be ideal.
CB Resourcing operates as both an employment agency and an employment business. Applicants will need to be able to provide us with proof of their eligibility to work in the UK upon request.



If you find a KM Job and would like to include it in this list then tweet it making sure the words knowledge management and job appear in the Tweet.




If you would like to receive an e-mail alert whenever a new job in your region is posted on this website then please click the button below and complete the form. Alternatively, a number of regional RSS feeds are available.





Gurteen Knowledge Community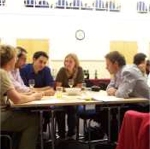 The Gurteen Knowledge Community is a global learning community of over 21,000 people in 160 countries across the world.

The community is for people who are committed to making a difference: people who wish to share and learn from each other and who strive to see the world differently, think differently and act differently.

Membership of the Gurteen Knowledge Community is free.
Knowledge Community