NEW IN! International law firm seek an Intranet/Content Manager to join their Communications and PR team headquartered in London. The communications team is part of the business development department which is responsible for business development activity, the firm's website and client development. The firm requires an expereinced Intranet/Content Manager to provide day to day leadership and management of the firm's intranet and its content. This includes supporting the delivery of effective and strategic internal communications for their partners and staff.
Responsibilities include:
• Creating and editing content for the internal news channel on the intranet. Content priorities range from business wins and people news to awards recognition and firmwide news
• Leading and encouraging a network of 'occasional editors' to maintain content for their specialist/local areas including not only news, but policies and procedures, know-how and information about clients, teams, support and training materials.
• Leading the project team currently working on the migration of the intranet to a new Sharepoint-based platform.
• Managing content sign off with stakeholders, to deliver a coordinated approach to content creation across the firm, its offices and its practices.
• Liaising with stakeholders to ensure that content is being properly curated and kept current and relevant.
• Developing and maintaining content plans and an editorial process.
• Generating, piloting and developing different types of content.
• Being the main contact for all intranet-related enquiries.
• Bringing creative ideas to the team.
• Editing content across the platform.
• Liaising with the IT department on technical developments and maintenance
To be considered for this role you will need the following skills and experience:
• A graduate with a business-to-business background – preferably in professional services.
• Exceptional communications skills, firm technical prowess, curious and a love of creating great content
• Articulate, with a strong sense of personal responsibility, diplomacy and judgement 
• Excellent writing and editing skills
• Enthusiastic and an effective and sensitive communicator, with good interpersonal skills
• Confident and pragmatic with a highly organised approach
• Strong attention to detail is essential 
• Able to manage multiple projects, working for several teams, at once
• Able to work to tight deadlines and deliver under pressure.
CB Resourcing operates as both an employment agency and an employment business. Applicants will need to be able to provide us with proof of their eligibility to work in the UK on request. Please email hello@cbresourcing.com with your CV and contact details for a confidential discussion about this position.



If you find a KM Job and would like to include it in this list then tweet it making sure the words knowledge management and job appear in the Tweet.




If you would like to receive an e-mail alert whenever a new job in your region is posted on this website then please click the button below and complete the form. Alternatively, a number of regional RSS feeds are available.





Gurteen Knowledge Community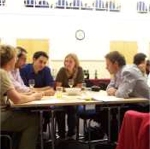 The Gurteen Knowledge Community is a global learning community of over 21,000 people in 160 countries across the world.

The community is for people who are committed to making a difference: people who wish to share and learn from each other and who strive to see the world differently, think differently and act differently.

Membership of the Gurteen Knowledge Community is free.
Knowledge Community