A global professional services firm requires a Knowledge Manager to take responsibility for developing and delivering content strategies for each of the core function offerings. Working closely with seniot business stakeholders, you will identify opportunities for the delivery of knowledge services that add tangible value.

Key Responsibilities include:

• Understand and be able to articulate the strategic direction and objectives of the global function, and develop and maintain content strategies to meet the identified knowledge requirements
• Identify, scope, plan and lead the delivery of knowledge services
• Undertake regular reviews, working with content owners as appropriate, to ensure the quality and integrity of core content and its alignment
• Develop and maintain content architecture for assigned content areas (principally Portal but will include a variety of existing and emerging platforms) to ensure it facilitates easy access to relevant knowledge and/or expertise
• Serve as a point of contact for Stakeholders and teams on matters related to KM, knowledge sharing, and collaboration including identifying opportunities to continuously improve knowledge programs and solutions
• Establish strong relationships with stakeholders to identify KM needs/requirements, measures of success, and obtain full participation in the program
• Establish, facilitate, and manage collaborative approaches to knowledge sharing using firm-wide tools
• Accountable for ensuring that the KM program leverages leading practices, agreed standards, and aligns with firm-wide KM programs (including taxonomies, UI, and use of offshore resources
• Ensure Risk policies related to knowledge sharing and knowledge products are being upheld, including copyright and content licensing agreements
• Design, develop, and manage deployment of communications and awareness programs related to KM, knowledge sources and relevant tools in full alignment with broader Knowledge Strategy



If you find a KM Job and would like to include it in this list then tweet it making sure the words knowledge management and job appear in the Tweet.




If you would like to receive an e-mail alert whenever a new job in your region is posted on this website then please click the button below and complete the form. Alternatively, a number of regional RSS feeds are available.





Gurteen Knowledge Community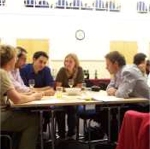 The Gurteen Knowledge Community is a global learning community of over 21,000 people in 160 countries across the world.

The community is for people who are committed to making a difference: people who wish to share and learn from each other and who strive to see the world differently, think differently and act differently.

Membership of the Gurteen Knowledge Community is free.
Knowledge Community