Knowledge Specialist (Telecommunications, Media & Technology)
Fabulous opportunity! A global consultancy firm require a Knowledge Specialist to play a critical role in supporting the firm's ability to deliver outstanding results for their clients. As a partner for consulting teams, Knowledge Specialists in the TMT Practice are close to consulting projects with some of the largest companies in the industry and help to solve the most pressing questions.
Key responsibilities include:
•Collaborates with Partners and other members of the consulting staff on selling and serving activities
•Coordinates and manages the capturing and sharing of the firm's knowledge base within the TMT practice area in EMEA
•Discusses key case learnings with client development and case teams and supports codification of these outcomes into the global knowledge sharing platform.
•Contacts client case teams and practice affiliates in EMEA to understand work and solicit best content to fill ongoing practice content needs
•Coordinates with other Knowledge Specialists to identify cross practice content priorities and works as part of a team to capture and codify materials
•Contributes to periodic product updates: identifying priority cases, executing research and analysis, codifying case examples and packaging insights
•Helps create and package content and insights in a manner consistent with the firm's professional standards guidelines
•Manages, designs and maintains Practice Area site(s) on intranet
•Reviews Knowledge Management and other relevant progress metrics to improve how the firm captures and shares its intellectual property (IP)
•Helps to identify leading experts & develop credentials materials on key topics within the practice area
•Coordinates development of the annual practice strategic plan and budget for EMEA
•Tracks and analyzes underlying drivers of practice revenue growth
•Supports content planning and logistics for annual practice meetings
•Assists with practice affiliate communication including the preparation for experience sharing calls and newsletter publication
•Supports new product development and deployment efforts as needed
•Ensures internal teams have best content at the beginning of a project
•Communicates key needs of the market based on internal demands of the Practice
•Manages all the new content processing and updates to Intranet
To be considered of this role you will need the following skills and experience:
•BA or equivalent undergraduate degree in relevant discipline required with strong academic credentials; MBA would be a bonus
•3+ years' experience in a professional services firm environment with exposure to consulting; prior experience in knowledge management and/or industry experience in the technology, media, or telecom sector is a plus
•Ability to self-motivate and work semi-autonomously
•Attentive to detail and very organized
•Intellectual curiosity and thirst for learning; passion for business issues
•Strong problem solving and analytical abilities and results-focused
•Excellent written and verbal ability: high level of English required, second language beneficial
•Strong presentation skills – ability to communicate with senior business executives
•Superior customer service attitude and ability to contribute on a team
•Strong proficiency in Excel, Microsoft Power Point, and Word
CB Resourcing operates as both an employment agency and an employment business. Applicants will need to be able to provide us with proof of their eligibility to work in the UK on request.
Please email hello@cbresourcing.com with your CV and contact details for a confidential discussion about this position.



If you find a KM Job and would like to include it in this list then tweet it making sure the words knowledge management and job appear in the Tweet.




If you would like to receive an e-mail alert whenever a new job in your region is posted on this website then please click the button below and complete the form. Alternatively, a number of regional RSS feeds are available.





Gurteen Knowledge Community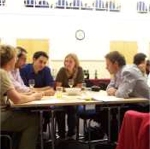 The Gurteen Knowledge Community is a global learning community of over 21,000 people in 160 countries across the world.

The community is for people who are committed to making a difference: people who wish to share and learn from each other and who strive to see the world differently, think differently and act differently.

Membership of the Gurteen Knowledge Community is free.
Knowledge Community